Welcome to our non-contributory network for CFD and FEM/FEA simulation specialists! We are proud to offer our expertise in Digital Twins, simulation in combination with AI, and tailor-made solutions for complex simulation cases.
Our team of over 200 experts is at your service, providing fast and affordable solutions that save time and resources, while avoiding mistakes in the tool construction process. Our focus on green computing ensures that we are doing our part to promote sustainability in the industry.
We are also proud to offer our clients the power of an engineer network, with an exchange of know-how and the latest industry trends. As the leading solver for nearly every simulation problem in the industrial market, we are confident that we can help you tackle any challenge that comes your way.
Whether you are looking for cutting-edge solutions in Digital Twins or simply need help with a complex simulation case, we are here to help. Contact us today to learn more about how we can help you streamline your workflow and achieve your simulation goals.
We have been successfully developing our network since 2021
First idea for a national Network, called "StrömungsRaum Allianz"
10 founding members
The learning started. Development of the network couldn't be prioritized due to the rapid growth of the founding partner.
Great ideas take their time
Redesigning the setup
New name
New CI
Own staffing
15 new partners
15 new partners (to be continued)
Own Website going live in July
3 strategic alliances between partners (dev sector)
The idea becomes step by step reality
The "birth" of SIMCHRONIZE
Pioneers wanted!
We are always looking for new partners to strengthen and enrich the network. CFD/FEM/FEA specialized engineering companies + freelancers welcome.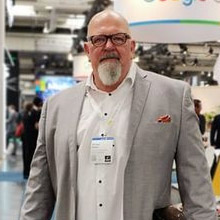 Michael Bublitz
Hi, I am Michael. I made my master's in international marketing management at the University of Applied Sciences in Worms (Germany). More than 30 years I travelled worldwide for different companies and industries. My passion is bringing people together from all over the world to create together something big.
I believe in the power of networking. Processes are getting more and more complex. Mostly one expert is not enough. So, the client must find different solvers for his process. The idea behind SIMCHRONIZE is, to bring worldwide engineering companies in CFD and FEM/FEA simulations together to offer solutions from a single source. We know, who knows!